Have a look at your holiday nest …
The holiday home
A five-minute walk from the Grimmingtherme, our house is located under the Grubegg castle. The Luckermühle is family-owned since 1681. In 2013 it was renovated without losing its charm. It awaits you cozy flair in resting position.
Ferienhaus Loitzl Luckermühle is located in Bad Mitterndorf Neuhofen, just 2 km from supermarkets and restaurants. It offers a garden. Free private parking is available on site.
The holiday house consists of several bedrooms, bathrooms and a fully equipped kitchen with a dishwasher.
There are many leisure activities such as skiing, cross-country skiing, cycling and hiking.
Special features
The second floor is fixed rented and accessible by a separate entrance at the rear side of the building. So you remain completely undisturbed. The spacious, spacious rooms are distributed over two floors, a garden and the terrace invite you to linger in spring, summer and autumn. In winter, the ski storage is available.
The non-smoking holiday house is particularly suitable for family holidays and holidays with the baby. For the comfort of people with an animal allergy, no pets are allowed. We ask for your understanding.
The Ferienhaus Luckermühle is idyllically situated in Neuhofen 24, Bad Mitterndorf in the Styrian Salzkammergut region.
Opposite the exit at Sparmarkt, Neuhofenstraße leads directly to Luckermühle.
Enjoy the spring, summer and autumn even the beautiful garden in the Luckermühle.
Especially with children, a holiday with a garden will be really nice.
Kitchen equipment:
4-plate electric cooker with ceramic hob
oven
fridge
dishwasher
coffee machine
electric kettle
cooking utensils
eating utensils
cutlery
 …
In the large kitchen, it makes fun to cook together with the family. Even for large groups is enough space.
The cozy seating area with the large dining table not only invites you to a common meal. This seat is also ideal for long game nights or simply cozy get-togethers.
The stove provides cuddly warmth.
The four bedrooms and a children's room are on the first floor. They can accommodate up to 10 people.
Each bedroom is furnished with double beds. Bed linen is provided. In one bedroom there is a TV.
In the children's room there are a single and a children's bed waiting for their little guests.
The 3 living areas are located on the ground floor and do not lack comfort and warmth.
The living and dining room has a traditional tiled stove. In the living room with sofa and chairs you find a TV. A stereo system will provide party atmosphere on request.
In the second living room with a cuddly sofa also offers a TV set. Another living area also serves as a bedroom. There is a folding bed as an 11th sleeping place.
So everyone can find his own cozy place.
Two bathrooms invite you to linger and relax. Wellness and spa in the house …
The large bathroom with its unconventional bathtub and the extraordinary ambiete invites to extensive bathing. There is also a double washbasin, a shower and a mirror.
The second bathroom is equipped with a bath tub, a WC, a bidet and a double washbasin.
To avoid bottlenecks, there is a separate WC with washbasin.
Non-smoking
To ensure that all our guests can feel at home, the Luckermühle is a non-smoking house.
.
No pets
Out of consideration for our guests with animal hair allergie, pets are not allowed in our holiday house. We ask for your understanding.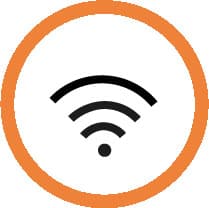 WLAN
You can of course use our free WLAN.
Famliy Holiday
The Luckermühle is ideal for your family holiday.
Holiday with the baby
At Ferienhaus Loitzl you will find everything you need for a relaxing holiday with your baby.
Parking spaces in front of the house
Use the free parking spaces in front of the house.
Ski storage room
A ski storage room is available for your skis, boots and suits to be stored safely and dry.